An increasing number of Malaysian Indian machas and minachis are complaining on Facebook Malaysian Indian girls picture posing – citing that it's a problem. It used to be girls and boys posing with duckface (mainly minachis), showing tongue (mainly minachis again) and sucking on a milk bottle (both teen machas and girls) on Facebook.
The trends above have passed on since except for the tongue thing which looks like stroke has afflicted them.
The current Facebook Girls Pictures which is a problem for machas is them posing with face hidden, face hidden by hair/hand and back showing. Machas are apparently so affected by this Facebook Girls Pictures Posing, they see fit to condemn such girls.
Facebook Girls Pictures Posing becoming Facebook machas' problem
Facebook Machas are traumatised and dumbfounded on why Facebook girls pictures posing is done in a way that the face is hidden and back is showing, they update statuses like the one below:
My message to the guy who wrote this post. Posting in nasty and grammar mistake ridden English is a challenge for readers. Before pointing your finger to others, look at the four fingers pointing back at you. Make sure that you're perfect before even expecting others to be perfect. It's not against the law to post pics like that. And let me tell you, guys take girls' face on their profile pics and then Photoshop it into nude pics. So, maybe these girls are practicing caution. You want girls to tell you what they want? I'm a girl so I'll tell you. We want you to mind your own business and impose these conditions on the ladies you have consanguinity with, not on every girl on Facebook and on the street. Real men don't hide behind the cover of Facebook and then condemn whatever girls do on Facebook or real life for that matter. And, for the record, real, matured, confident and intelligent women won't post such pics as well.
Above all, the picture is anything but vulgar. Maybe the guy is frustrated because he can't see the girl's face. Or he has a phucked up imagination. It's not the Facebook girls pictures posing's  fault for him having a faulty mind most likely due to a faulty upbringing.
Facebook Machas adding on to Facebook Girls Pictures Posing
During the discussion on Facebook, machas went from Facebook girls Pictures posing face half hidden and back showing, machas went on to say that guys should mind their grammar but girls can post naked pics of themselves on Facebook and tell those who question to mind their own business. Machas need to learn what allusion and not getting off at a tangent means. By the way, I want to know which girl posted her nude pics on her Facebook. The issue is about Facebook Girls Pictures Posing in the back angle and face hidden angle. When I say back, I only mean back, not other body parts. But machas start harping on girls posting their nude pics to win the non existent battle, being quasi competitive, adamant to pin blame and shame on girls.
For the record, no Malaysian Indian girls voluntarily post their nude pics on Facebook on their own volition – this is just a macha allegation to win the argument. So, how do nude pics of a girl end up on girl shaming vandi Facebook pages? Here's the sequence:
If guys puji the looks of the girl on Facebook then she'll be over the moon.
If he kutuk the girl's look, he will be blocked at the soonest – if you want to know why, keep reading.
Then the inbox starts. The guy will ask more pics of the girls, each more scantily clad than the previous.
Finally the blackmailing begins and revenge porn happens if the girl refuses to pander to the guy's demand. He'll call her a slut because she gave him her private pics.
That's how the Facebook vandi pages get their stock.
Actually just like any social animal, the girl's seeking for external validation to augment her self esteem. Girls who post hundreds of pics of themselves are very insecure, foolish creatures who have low self esteem. So, anyone who put negative comments like 'your nose is flat' or 'your eyebrows need threading', etc will be blocked. If any guy is really concerned about the girl, inbox her and tell her that what she's doing is dangerous, not humiliate the insecure lots and vilify them openly by generalising. It doesn't help. I actually encourage girls not showing their full face on social medias – if they show face, convenient to Photoshop and inserted into nude pics. I'll actually encourage girls on Facebook hiding half face with camera, hair or hand or show the back. If guys don't like, don't like the pics. It's not that the girls are forcing you to like or comment on such pics of theirs so, what's the point in mulling and guessing what such girls want? I have personally said that girls should set privacy settings for their pics and make their posts which show their intellect public.
Facebook Girls Pictures Posing – Facebook machas are only protecting the girls' dignity
Sure, protect girls' dignity on Facebook by calling them bitch, sluts and whore at the slightest clothing/posing aberration which is considered an abomination.
On another angle, it amazes me how some men believe they can dictate a woman's dignity. I mean, seriously?? What came to their dream and tell them they can dictate a woman's dignity? Who gave them the authority to draw a line on a woman's dignity? It's self entitlement.
In some places in India, women are considered "bad" just for wearing a pair of jeans. Seriously, some men need to wake up from their grandiose delusions. It's okay to not agree with other people's choice, but you should not let your religious or cultural beliefs to allow you to hate or harass other people.
If any guy find the back showing picture way above as obscene or menjolok mata they should move to Saudi Arabia or Afghanistan. But there, guys get sexually aroused by seeing a woman's toe. In Mauritania a woman's fat arm is oh so sexy. In Saudi, women can't expose their eyes if they're attractive. In Californian beaches, if a woman wears a tee and shorts, she'll looked upon as an anomaly. So, how to make a universal distinction of women's dignity and modesty?
In Sweden, women wear clothes that expose half their breasts and rape cases there are the most reported in the world due to near perfect gender equality in Sweden along with migrant rapes (Sweden accepts Muslim refugees from Iraq, Somalia and Syria and the refugees turn into ingrates and indulge in crime especially rape and demand Islamization – kacang lupakan kulit). Women are scantily clad in Netherlands – they're extremely sporty as well and the Dutch government there are closing prisons down due to lack of criminals. Dutch women are the happiest women in the world. Malaysian Indian machas (many) drink and develop Dutch courage, that's all. In India ladies need to cover up their bosom with a shawl, on tops which are normal here. Rape is rampant in India. Due to that extreme covering up, breastfeeding has become sexually arousing. Amazon and Papua New Guinea tribal women are topless and there's 0 rapes in their community. Dignity is a subjective term which differs from place to place and person to person. Cultures that tell women to cover up have the most rapes. The irony of it. You'd know all these if only you read rather than always watching shitty movies like Maari and VSOP. Strike a balance. I've provided the links so please do click on them and read/see them. Broaden your worldviews rather than confining your focus on Malaysian Indian Facebook girls pictures posing. It's not a problem. You ignorance and self entitlement are the problems.
Conclusion
I don't see anything wrong in Facebook Girls Pictures Posing with their faces half hidden or showing their backs. I'd actually encourage it because it makes it hard for male sex predators on Facebook capitalizing on the pics which shows the girls' faces plainly. 
The issue brought up here is concerning that the girls have the right to post pictures of their face hidden – a very good safety tactic indeed. But for machas and minachis to wonder what is the reason they hide their face is subject to trivia. And making an issue out of it when ringgit value is plummeting, 1MDB scandal and GST being more pressing problems speaks of your priority. By paying so much attention and scrutiny on what girls wear, you are on ISIS' track. Because Taliban has become too mainstream and mild. And, guess what? Malala Yousafzai, the girl that Taliban shot in the head for advocating girls' right to go to school, who is an activist unlike Geethanjali G and Nobel Prize Winner got the below grades in the UK GCSE exam:
More than looks, education wins the test of time. Take Malala as an inspiration to excel in education Malaysian Indian girls. Girls elsewhere are fighting for education. One only knows the value of education when education is denied to them.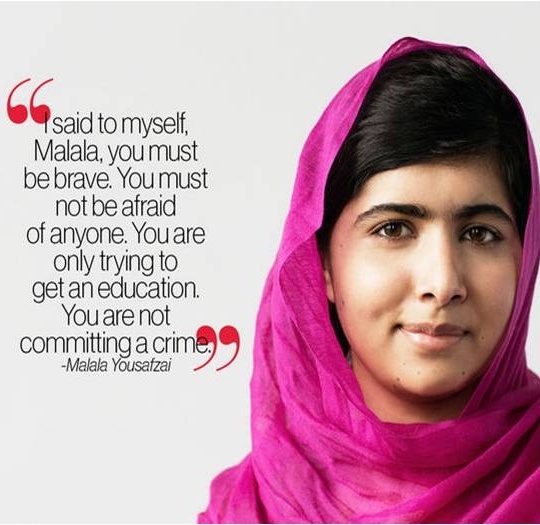 Ellarum poyi veleyeh paarungge ya. Vanthutangge, moonji terle back teriyuthu nu pesikittu! (Go do your work, all of you. Making an issue of hidden face and exposed backs)
Facebook Comments
comments